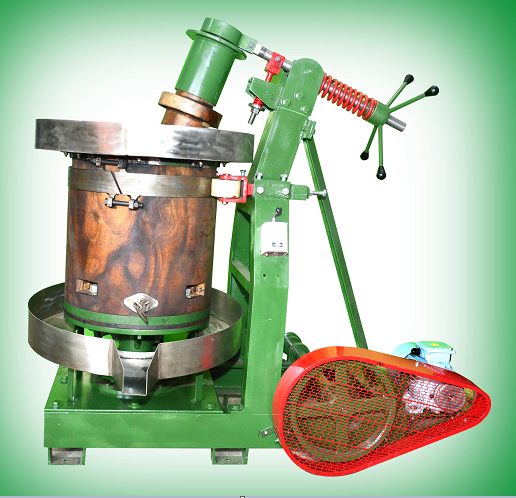 Join The Health Movement!
Sri Ganga's G brand Fresh Cold Pressed Oil is prepared as per the traditional cold-pressed method, which involves seeds or nuts being crushed or pressed to extract the oil with all the nutrients intact. The oil is unrefined and 100% chemical free, which ensures the purest, most aromatic oil for healthy cooking.
The oils you use for everyday cooking are extracted from seeds and nuts. From groundnut oil to sesame oil, the way that oil is extracted has a direct effect on how the oil tastes in your food and the amount of nutrients it has to offer. Using heat to extract the oil produces more of it, but heat can degrade the oil's flavor and nutritional quality. Using low-heat methods produces higher quality oil, although in lesser quantities.
Sri Ganga's G brand virgin oils are extracted through natural cold-pressing method, which involves crushing the seed or nut in low speed wooden grinders and forcing out the oil. Although some heat is generated through friction, it's not enough heat to damage the nutrition in the oil.
Unrefined oil undergoes a process called "wet milling." Oil is extracted from fresh seeds or nuts and undergoes no bleaching. This makes unrefined, also known as "virgin" or "pure," the least processed form of oil available.
In Sri Ganga's G brand virgin oils, with no chemical refinement, you get a bigger flavor. Plus, you also receive more nutrients. When oil is refined, the baking and bleaching reduces the number of polyphenols and medium-chain fatty acids available. These compounds are what offer the antioxidant, anti-inflammatory and other health benefits; thus, unrefined oil is better if you're taking it to boost your health.
In manufacturing of refined oil, the natural oil undergoes the refining process to produce an edible oil. Ideally, these processing techniques should preserve the tocopherol (vitamin E variant naturally occurring in the oil) and must prevent any chemical changes in the oil to be considered good for health.But with the combination of high temperature, low pressure and stripping action of an inert gas in the refining process, could result in physical losses that are undesirable.
In extraction of Sri Ganga's G brand virgin oils, seeds are not tortured at high temperatures or subjected to harsh chemicals. Instead, temperatures below 40 degrees Celsius are used ensuring the oil maintains its character.

Before visiting this place has doubtful that they may adulterate the oil. But once when i visited this place all doubt for cleared. When i visited they are extracting mustered oil. I just could not able to stand even near the entrance because of the harsh smell of mustard. Truly genuine place where you can get pure oil extracted from seeds.
Great place. So many types of oils, desi ghee, seeds etc. I didn't believe at first but after visiting I changed my impression. Definitely recommend this place for those looking for genuine oils.